Blog
1MC - Grow Together over a Cup of Coffee
posted Jeff Zarling on 2 June 2017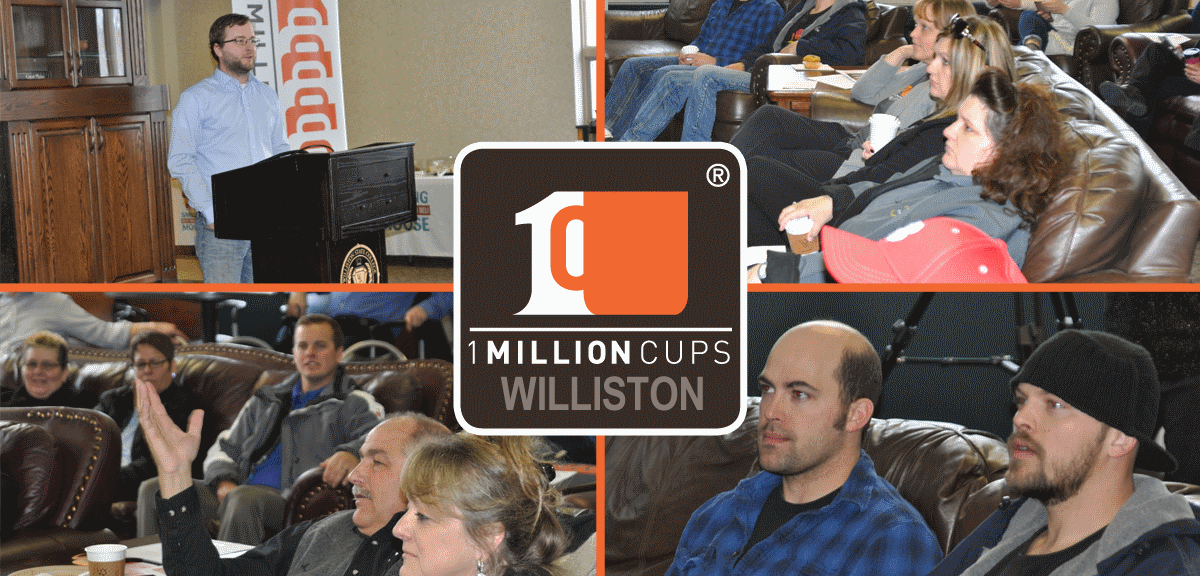 Looking for opportunities to improve in your business? Then you should attend 1 Million Cups, whether you drink coffee or not. 1 Million Cups, 1MC, was developed by the Kauffman foundation to educate, engage, and connect entrepreneurs with their communities. The program is based on the notion that entrepreneurs discover solutions and network over a million cups of coffee.

The Kauffman Foundation
Based in Kansas City, the Kauffman Foundation was created and endowed by Ewing Marion Kauffman, a successful pharmaceutical entrepreneur and philanthropist. One of the largest private foundations in the United States with an asset base of nearly $2 billion, the foundation is focused on education and entrepreneurship.

The organization has developed numerous resources and programs to support entrepreneurs including Entrepreneurship.org, Founders School, FastTrac, and 1 Million Cups. Entrepreneurship.org is a comprehensive source of information, tools, and resources available to help entrepreneurs operate a business venture, create wealth, and employ people.

Founders School is a robust curriculum of free, online educational resources dedicated to entrepreneurship. FastTrac is a series of workshops delivered through affiliates to entrepreneurs through early stages to growth stage.

Entrepreneurship and Coffee Consumption
How many cups of coffee do entrepreneurs drink while trying to launch a successful startup? This is the question that launched 1MC according to a presentation by C. Taylor Brown, senior program coordinator with the Ewing Marion Kauffman Foundation.

Entrepreneurs network, problem solve, and advance their business ideas better together—and more often than not, there's coffee involved. Launched in 2012, 1MC was formulated around this simple idea to engage entrepreneurs and their communities. Since then, the program has grown to over 100 communities in more than 40 states with an estimated weekly attendance of more than 2,500 people.

1MC Williston
A community that would like to launch 1MC must assemble a group to organize and operate the program. The process includes assembling a team of seven to ten Community Organizers and developing a plan that includes a venue, equipment, scheduling and of course coffee. The group applies to the Kauffman Foundation to launch and operate the program according to defined guidelines.

A team came together and launched the program in Williston in March of this year. The community organizers include Brandy LaDue, Shawn Wenko, Ann Kvande, Barb Peterson, Karissa Kjos, Bob Horab, Liza McLean, Keith Olson, Jason Rojas and Becki Zugg. 1MC is held the first Wednesday of each month at 8:30 a.m. in the Teton Lounge at Williston State College.

Presenter Perspective
One recent presenter was JD Haugrose of Blondie's, Feed Your Soul Food catering company who heard about 1MC on social media. "At first I was thinking it was a networking group," related Haugrose. "But after attending my first event I became much more aware of how beneficial the program could have been for our little business from inception."

To reiterate, 1MC is designed to educate, engage and connect entrepreneurs with their community. "The concept came together for me personally during the question and answer period after I presented," said Haugrose. "I realized how eager others truly were to learn about the challenges of being a startup and how we overcame those challenges or learned from those failures and how we would have done things differently."

Value for Attendees
Presenters are not the only ones that benefit from the program. "I enjoy listening to and learning from other business owners as they share their experiences," stated Kim Wenko, co-owner of Mode Williston.

"It's a great place for us to talk about our struggles with entrepreneurs that understand the issues we all face," continued Wenko. "I have made great connections with other business owners in the community and discovered how we can help each other."

We Need Each Other
While 1MC has begun to create value for those that have participated so far, long-term success of the program is dependent on reaching critical mass. Think about the impact that presenters and attendees have described and then consider Metcalfe's Law.

Attributed to Robert Metcalfe who developed the Ethernet protocol for telecommunications networks, Metcalfe's Law states that the value of a telecommunications network is proportional to an exponent of the number of connected devices. To illustrate, a network of two telephones can make one connection, five can make ten connections and ten can make forty five connections.

The law has also been applied to social networks such as AOL and Facebook. As the number of users increases, the value of the network to each user increases exponentially and eventually the inherent or personal value of a social network hits critical mass.

In an IEEE article, Metcalfe explains, "The original point of my law (a 35mm slide circa 1980) was to establish the existence of a cost-value crossover point--critical mass--before which networks don't pay. The trick is to get past that point, to establish critical mass."

It Needs You – You Need It
1MC Williston needs you to hit critical mass and you need to attend to take advantage of this opportunity. I often talk with business owners about making a commitment to carve out time to invest in strategic activities, things outside the day-to-day routine and operations. Whether it is scheduling time to make strategic plans for sales, marketing and new products and services or attending a conference. Time spent in these activities results in personal and organizational growth and 1MC is just such an activity.

Make plans to attend the next 1MC Williston event on Wednesday, June 7, 2017 at 8:30 a.m. in the Teton Lounge at Williston State College. The presenters will be announced soon on Facebook at www.facebook.com/1MCWST