Blog
Exploring Vision, Mission and Values
posted Jeff Zarling on 13 March 2017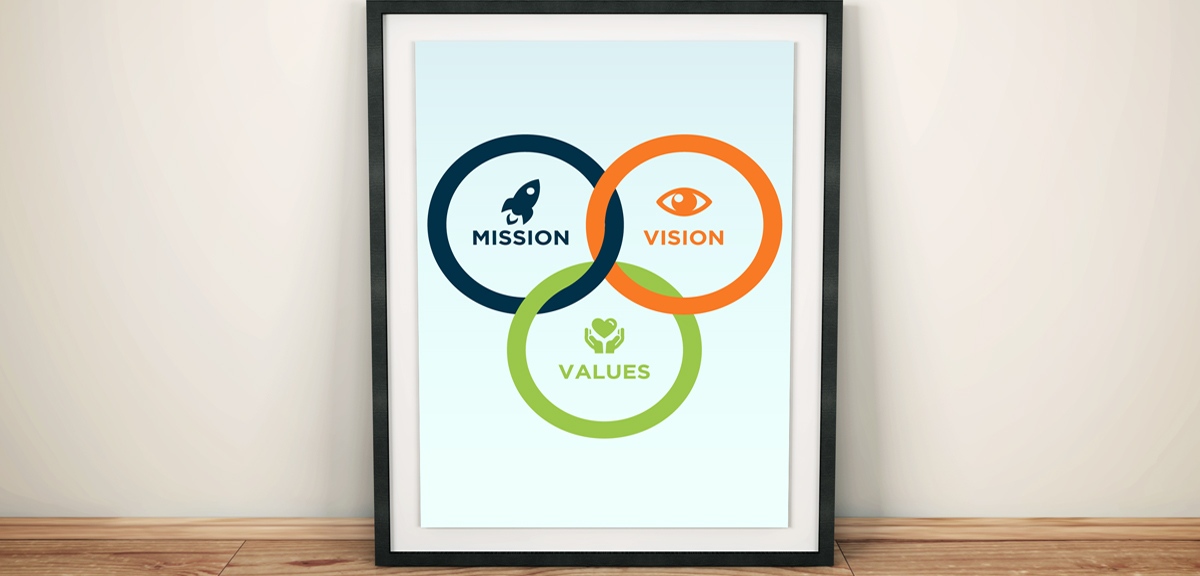 When I think about mission statements, I recall with a chuckle the Mission Statement Generator that was available on the Dilbert website in the late 1990's. Just enter your company name, click a button, and out popped what seemed like every other corporate mission statement at the time: "ABC Company enhances shareholder value through strategic business initiatives and synergistic partnerships empowered by employees working in new paradigms."

We see a lot of mission, vision and value statements in the work we do. When working on marketing and communication plans and activities, we look to company mission, vision and values to guide and define our work.

We also conduct strategic planning for companies and organizations that includes the review and sometimes the development of the mission, vision and values. So we have seen, reviewed, dissected, and developed numerous company statements and have seen the good, the bad, and the ugly.


Benefits
The company statements, for lack of a better overarching term, can be very powerful tools when they accurately encapsulate and reflect the true values of a company, are integrated into the corporate culture and reinforced on an ongoing basis.

Internally they define the goals and direction of the company that management and employees can use as a guide or measuring stick when making decisions and doing their day-to-day work.

As an example, one of our defined values is related to problem resolution. We have a defined process that has developed over fifteen years of how we handle problems. We take ownership of the problem, address the immediate need, identify and resolve the underlying cause, and work to prevent it from reoccurring.

Everyone on our team knows this process and does not have to ask me or anyone else how we approach the problem. There may be questions and discussion along the way on the appropriate resolution or other details, but everyone knows how we are going to approach it.

Externally, company statements help prospects, customers, partners, and other stakeholders understand who you are and set expectations for how you will behave and interact with them.


Pitfalls
Sometimes company statements are written to complete the outline of a business plan, the company website or some other exercise being undertaken. Other times they are created with good intentions but contain descriptions of what the company would ideally like to reflect or what sounds good but is disconnected from how the company actually acts and behaves.

If there is a disconnect between what you say and what you do, it can be more harmful than if you had not said it at all. I have had occasion to question a company's mission and values claims when they espouse "integrity" as a core value yet consistently slow-pay invoices and demonstrate other questionable behavior.

Another common issue is a vague mission statement that could seemingly apply to any company in your industry or market. It can be difficult to strike a balance between a rambling soliloquy that outlines everything you do and a vague statement that communicates little. Conducted properly, the process can unearth those key concepts and terms that capture your true mission in a concise yet meaningful way.

Other pitfalls to consider include corporate buzzwords, lack of focus, overly ambitious, lack of accountability and failure to reinforce the concepts in your daily and weekly activities.


Defining Mission, Vision and Values
As you dig into your company statements, it can be a bit confusing as there are a number of accepted definitions and conflicting opinions on the difference between a mission statement and a vision statement. The important point is what you get out of the process and how you utilize them to achieve your goals.

The mission statement is most often defined as a declaration of the organization's core purpose and focus or its reason for existence. It can be seen as a clear, concise description of your business strategy.

To illustrate, consider Southwest Airlines - The mission of Southwest Airlines is dedication to the highest quality of Customer Service delivered with a sense of warmth, friendliness, individual pride, and Company Spirit, or Aflac - To combine aggressive strategic marketing with quality products and services at competitive prices to provide the best insurance value for consumers.

A vision statement is typically considered future-focused, an aspirational description of what the company will look like in the future or what guides ongoing courses of action. I hesitate to provide examples as it reinforces what I said earlier about confusion between mission and vision. I encourage you to explore examples online and sort out for yourself how you can best define and use mission and vision in your organization.

Value statements tend to be more comprehensive and provide an inventory of key values that reflect and reinforce the corporate culture. It is an opportunity to codify or document your beliefs, standards and practices. Consider some of the following terms and phrases from a number of companies.

Integrity is our foundation – we are professional, honest, trustworthy confidential and respectful in everything we do. Excellence means always exceeding expectations. Communication – we say what we do and do what we say, communicating clearly and often.

People – be a great place to work where people are inspired to be the best they can be. Partners – nurture a winning network of customers and suppliers, together we create mutual, enduring value.


Exploring and Developing Your Company Statements
When we conduct business, marketing or other strategic planning projects, I encourage our clients to value the process as much as or even more than the resulting plan or document. Additionally, working through your company statements should be approached more as a discovery process than a creation process, a subtle but important distinction.

The process is an opportunity to engage a variety of stakeholders including management, staff, board members, customers, and others in a deeper dialogue. Dig into specific stories and examples of how you have created value, solved problems and strengthened relationships. We are amazed at the things our clients discover as they carve out time to review and update their mission, vision and value statements.


Living Your Company Statements
While the development and documentation of your mission, vision and values is often an annual or periodic exercise, implementation is living those values out on a day-to-day basis with fidelity, faithfulness to the cause and beliefs.

That happens when the contents of the documents are a reflection of the contents in the minds of everyone in the organization. No one has to look up the values when making decisions; they know what values guide their decisions and how they conduct themselves daily.