Blog
FlowCore Systems - Williston Manufacturing Company, a Reprise
posted on 15 January 2018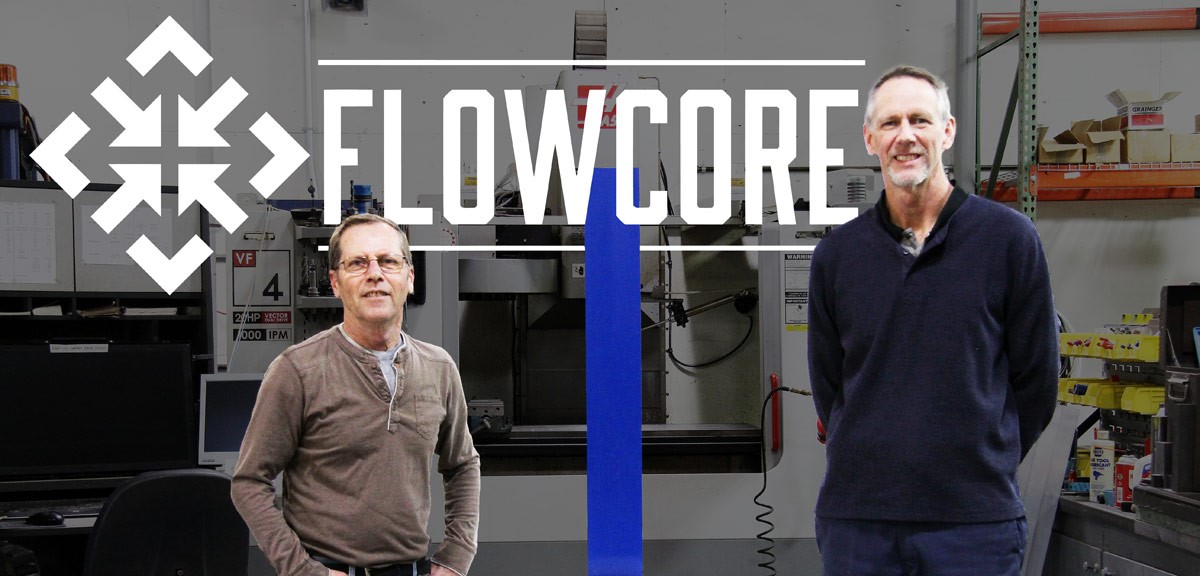 Oil and gas activity in the Williston Basin over the last decade has brought about an economic boon with the creation of thousands of high-paying jobs and hundreds of new companies. Through it all, there is an underlying desire to see a diversification of the economy with the creation of primary sector businesses such as manufacturers.
FlowCore Systems is one such company that has leveraged the oil and gas activity, solved an industry problem, brought an innovative product to market and created a manufacturing company in Williston to serve the industry here and beyond. Chuck Black led the product development effort with the support of several others creating FlowCore Systems' flagship product, the FC500 fresh water management and chemical injection system.
But before there was FlowCore, there was Stringliner.
Stringliner is Born
Understanding FlowCore starts by understanding the long history in product development and manufacturing of the people involved with the company. "It began in the late 1970's when my brother, Wes Black, invented a construction line reel that he and Terry Oxendahl used to mark out concrete and other construction projects," explains Chuck, one of seven children. "Later, Terry and his father-in-law trademarked the name 'Stringliner' and decided to market the tool."
The patent was filed in April of 1979 but sales never really took off and eventually the product died in the early 1980's.
Stringliner Reborn
"My father and three of my brothers were in mud engineering during the 80's oil boom," recalls Chuck. "After the bust, they were heading back from meetings in Billings with no business on the horizon and asked themselves, 'What do we do? Let's look at Stringliner.' So they revisited the product."
Brothers Wes, Ron and Bob along with their father Jim (JK) licensed the mold from the Oxendahls, reworked the product and focused on meeting a lower price point. They spent the late 80's grinding it out and keeping the company alive.
Introducing Electronic Automation
While the older brothers were going about building Stringliner, Chuck Black was amid an Air Force career, first as a combat communications officer and then an F-16 fighter pilot. While home for the holidays one year, Chuck visited the Stringliner operation and observed some of the initial automation the team was using, including modified sewing machines for winding the construction line.
"Given my background and degree in electrical and electronic engineering from NDSU," recalls Chuck. "I envisioned ways they could improve automation. I returned to my station in Oklahoma City and began working on automation ideas."
"Things were a lot different back then. I was creating things from scratch, etching my own circuit boards and programing in machine language," Chuck reflects with a laugh.
A few months later he setup the automation and the company soon doubled production. Over the next few years, he developed several iterations of automation with ever-improving technology and controllers.
Full-Time Automation and Product Development
Changes in the military put Chuck at a crossroads in 1992 that led him to leave the Air Force and join his brothers full-time at Stringliner. He started by refining automation throughout production and then turned much of his focus on product development.
"We soon brought to market a reloadable construction reel design that ultimately became the bread and butter of the company," reflects Chuck. "We then began to invest in bringing additional equipment and talent in-house."
The company brought injection molding in-house, acquired a CNC machine and hired Steve Hayden, an experienced machinist.
Growth and an Exit
The next fifteen years or so would be a typical manufacturing company story – new products and the ebbs and flows of business development and sales. Especially challenging was the contraction of the construction industry, a key market, after the 2008 Great Recession.
In January 2014, Stringliner was sold to U.S. Tape including the production equipment, molds and inventory. Not included in the sale was the machine shop including two CNCs and other machines and software. What remained became Precision Machine & Engineering where Chuck Black and Steve Hayden provided machine shop and engineering services.
Presented with a Problem
In 2014, Chuck was approached by an extended family member working in the chemical business in the oil and gas industry. "He came to me and explained the number of problems he was having with chemical pumps in the field," recalls Chuck. "'I'm spending 60% of my time fixing malfunctioning pumps and blocked check valves, there's got to be a better way,' he told me."
Chuck and Steve approached the problem with two major design goals, first was to be virtually maintenance free and second was to significantly increase accuracy of chemical metering.
The Eureka Moment
"As we worked on development of the product, we tried a couple of design approaches and conducted rigorous testing on a well site location. While on location one day dealing with a blocked chemical tank, we had that eureka moment," relates Chuck. "It led to our current design and patent-pending technology that eliminates the mechanical failures of traditional chemical pumps and provides extremely precise dosing."
The new system design along with the PLC controller that was used allowed the team to develop two additional design goals; intelligent, adaptive control of the system, and data capture.
An Intelligent System
Chuck's background in automation proved beneficial in programming the system. "The system design and controller allowed us to create an adaptive system with closed loop feedback. After an operator and chemical company set the parameters, the system will dose, measure the results and adjust accordingly to meet the desired target based on the water and chemical performance throughout the day," explains Chuck.
Data Capture, Management and Decision-Making
The technology used in the system records and captures numerous data points including water volume, chemical injection, pump cycles and more. This data has been incorporated into an online application called FlowSite that provides interactive reports, trend analysis charts and system performance information.
Building a New Company
Shortly after product development began, the company FlowCore Systems, Inc. was established. Following two years of product development and field testing in the Williston area, the company officially launched the commercial product in July of 2017.
Chuck is quick to point out that his skills lie in product development, automation and engineering. They have since brought in a general manager and production staff to build out the company and deliver the FlowCore products and services.
This initial phase of building a new company should be quite familiar and the experience gained from the Stringliner days should prove to be useful. And so begins the growth of a new manufacturing company here in Williston.