Blog
KLE Construction – Woman-Owned Heavy Civil Contractor
posted Jeff Zarling on 19 May 2017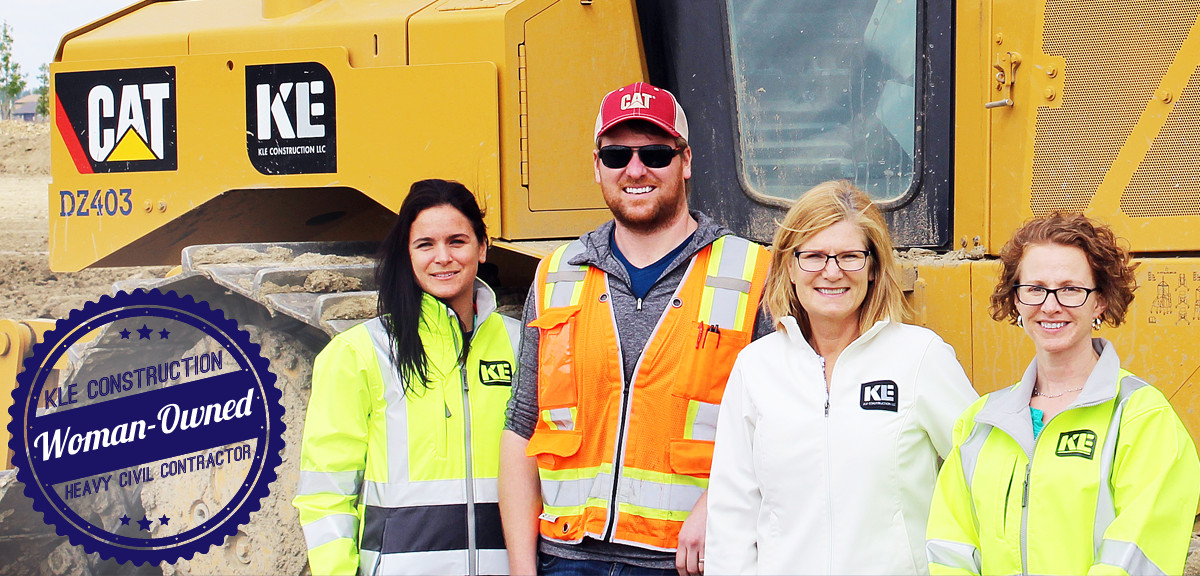 KLE Construction is a heavy civil contractor focused on site work and underground construction such as utilities and pipelines that was founded in 2010 by Kari Everett. To understand how a woman started and grew a successful business in the male-dominated heavy civil construction industry, you have to look back at her formidable years.

Working with Dad
Kari Everett grew up in LaConner Washington about halfway between Seattle and Vancouver, B.C., an area steeped in the fishing and logging industries. Her father, Tom Halle a one-time tug captain, was an entrepreneur and investor. He became involved in the administration and operations of a tug and barge company with primary responsibilities in purchasing and procurement.

In her elementary years, Kari Everett began working picking strawberries along with every other child in her community. Kari helped her dad in purchasing and later worked in accounts payable, accounts receivable and customer service. "Work is a big part of my history," relates Everett. "I grew up in the northwest around the farming, logging and fishing industries and have worked for as long as I can remember."

Starting a Business and Raising a Family
Kari eventually met Gary Everett, a diesel mechanic, and soon started a family. Gary moved the family to Wenatchee, Washington and started his own heavy equipment repair business where Kari helped run the office and manage the bookkeeping.

The Everetts raised two sons, Jason and Ben, who took to the family trade. "They were always around heavy equipment and the businesses that use it," related Kari. "I remember the kids spending a lot of time on their dad's lap in some big piece of equipment or another. They were raised on it."

Side Jobs
While helping Gary in his business, Kari worked in real estate on the side. She worked for a developer and got to know the real estate market as well as land development and the heavy civil work that went along with it.

Turns out, Kari was not the only one in the family with a side job. While in his teens, Jason had started renting heavy equipment to do projects "without mom's knowledge."

Western Washington – Economic Downturn
In the early 2000's, the family returned to the west coast of Washington in Skagit County. Gary continued to work in heavy equipment repair with mobile service trucks. As the economic downturn took hold, Kari saw a number of signs pointing to opportunity.

"I saw all these qualified people who could not get work," says Kari. "I also saw my sons with their entrepreneurial bent. There was an opportunity to create a great team for our mutual benefit."

Creating KLE
"I approached a woman I knew who was part owner of a general contracting company working on a fire station project," continued Kari. "We had a great deal of trust. I presented her with the idea of creating a heavy civil construction company. She hired us for the project and fronted some money for supplies and payroll for the first few weeks. We were cash flow positive soon after."

The relationship led to a quick-service restaurant remodel project including demo and partial underground work. Jason focused on business development and bidding projects. Ben focused on running the projects while Kari focused on growth and management of the business.

Counter-Market Growth
The development and construction market decreased during the Great Recession and contractors were struggling to survive under mountains of debt they took on to expand during the early 2000's. While construction companies downsized and went out of business around her, Kari launched KLE with minimal capital and a lean business model.

Her stability created trust among general contractors and project sponsors leading to sustained growth. She soon approached a local bank and secured a small business loan as well as equipment leasing to further expand the business.

The company continued to grow at a rapid pace as they were able to hire highly qualified people and secure projects based on their execution, stability, customer service and growing relationship base. Projects ranged from a metro area high school to low income housing to a mixed-use project in downtown Seattle.

The Bakken Calling
In the fall of 2010, KLE had a couple of idled trucks. A driver who often worked for them in Seattle approached Kari and Jason about leasing the trucks for work out in North Dakota. "You need to get to North Dakota and check out the Bakken," he said. KLE leased the trucks to the drivers.

In the winter of 2010, Jason took a trip to North Dakota to check on their equipment and the market. "When you see a truck going twenty miles one way with a load of scoria and another truck going twenty miles the opposite direction with a load of scoria, you know something's up," stated Jason. "That kind of inefficiency doesn't work in a normal market."

The family decided to enter the market and lined up their first project installing water service for a crew housing facility. They soon experienced the dynamics of the Bakken market as midway through the project, the deal with the landowner to expand completely stalled.

"Having worked on projects in high-density areas, we had service trucks with more fittings and materials than some of the supply houses in the Bakken region," related Jason. When the rural water department serving the stalled crew camp project discovered KLE's capabilities, equipment and supplies, they soon found themselves working on distribution lines and services for the water authority.

With Jason focused on sales and brother Ben running the work in the field, they next landed a project working on produced-water gathering and fresh water distribution systems for an oil and gas operating company. The operator was on a tight deadline needing 20,000 feet of double buried line completed in one week for a site coming online.

"'You can do it?' he asked with a lot of doubt," related Jason. "We finished at 2:30 a.m. on the last day. He couldn't believe it." That led to an ongoing relationship and significant work.

Focus on the Bakken
While Jason and Ben were growing the project portfolio in North Dakota, Kari and a crew were back in Washington finishing up their projects in Seattle and they decided thereafter to focus all of their efforts in the Bakken region. Projects began to roll in one after the other and the business blew up.

They started with about ten people and quickly grew the team to over fifty. Site work has become a staple for the company with work on the First International Bank & Trust site, a number of Kum & Go locations, among others such as the new Red Rock Ford location and industrial building sites.

Making North Dakota Home
After working in the Bakken region for more than four years, the family decided to make the move permanent. "In 2015 we sold our house in Washington and are in the process of building a house here," related Kari. "This is our home."
As they ponder the future, the vision revolves around measured growth, expanding into more roadway projects, increasing efficiencies and hiring the right people. KLE recently received their Woman Owned Business Certification. Kari and the family see a long and bright future for them in North Dakota.