Blog
MedScan Laboratory – Family Business Seizes Growth Opportunities
posted on 3 December 2017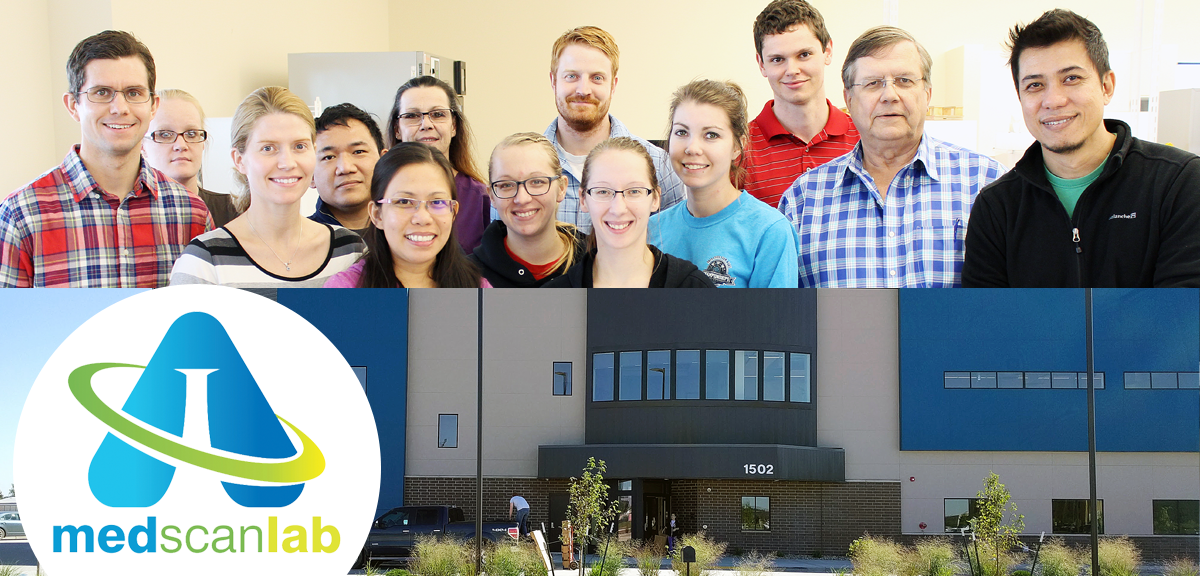 The recently completed ProMed Plaza is a professional and medical building that stands two stories high to the east of Outlaws Bar and Grill and houses a number of businesses including MedScan Laboratory, Inc. Having lived in Williston for nearly sixteen years and feeling somewhat in tune to the business environment, I was curious about this new business.
Turns out that MedScan and Advanced Drug Testing, its sister company, are not so new. MedScan was started by Dr. Robert (Rob) Howard in 1996 and has grown to include Advanced Drug Testing, an office in the Atlanta, Georgia area, a new genetic testing laboratory in Houston and over thirty employees.
Doctor of Chemistry
Dr. Rob Howard graduated from high school in Minot, North Dakota.  He attended Northwestern University, The University of North Dakota and The University of Houston.  Dr. Rob Howard has a B.S. degree in Chemistry and a Ph.D. in BioInorganic Chemistry.  After graduate school, he became the liaison scientist between M.D. Anderson Hospital, Rice University, Baylor College of Medicine and the University of Houston. 
Dr. Rob Howard owned and operated a laboratory in Houston that served the Houston medical complex. His practice included a significant amount of analytical work interpreting results for attorneys and law enforcement.
In 1993, he returned to North Dakota to lead a company and that role ended in 1996. His experience and network pulled him back into the medical laboratory and analysis business. "I had oodles of attorney friends that wanted to understand the test results," recalls Dr. Rob Howard.
Serving a Need
He started MedScan Laboratory to certify test results, interpret toxicology reports and testify as an expert witness. His son, Mike Howard, joined the business in the beginning and was instrumental in building the laboratory and facilities. MedScan is a CLIA (Clinical Laboratory Improvement Amendment) certified lab.
Physicians and medical practitioners utilize the analysis to determine if their patients are following their prescribed treatment. Patients may underuse medications for fear of addiction while others may overuse and abuse their medications. Addiction treatment centers also utilize the testing and analysis for monitoring and treatment programs. Probation officers and others in law enforcement utilize the analysis reports and expert testimony to revoke probation and other such actions and decisions.
Growing and Expanding the Business
The business initially supported defense counsel and grew to support attorneys in North Dakota, South Dakota, Montana and Minnesota. The business expanded to serve counties through an initial contract with Bexar County in Texas.
Dr. Rob Howard has since been certified in District Court in nine states dealing with drug and alcohol issues and has testified in both civil and criminal cases for both the prosecution and defense. "We have established ourselves as the 'go-to lab' for testing, analysis, reporting and expert testimony," shares Dr. Rob Howard. "It got to the point where I could view a toxicology screen and tell you that person's story."
In 2001, Dr. Rob Howard established Advanced Drug Testing (ADT) in Bismarck, North Dakota as a medical review officer administrator. The company serves as a third party administrator the monitors and manages the drug and alcohol program for trucking companies.
Expanding Family in the Family Business
A call from the staff of ADT in 2003 served as notice that a competitor had offered them all jobs and they were taking it. Dr. Rob Howard recruited his daughter; Jennifer (Howard) Heller took over the ADT business and moved it to Williston where it has been operating since. Today, ADT monitors the drug and alcohol program for more than 7,000 companies.
Over the years, Dr. Rob Howard had witnessed the changing dynamics in drug abuse for over fifteen years. "In the early 200's it was predominately meth followed by marijuana that were being abused. Then it was meth followed by cocaine," explains Dr. Rob Howard. "The next phase was meth followed by opioids and then we saw a transition to synthetic opioids as the leading abused drugs followed by meth."
By 2012 Dr. Rob Howard saw the coming opioid epidemic. "I could see the potential to make an octave-jump in the volume of our business but it was going to require significant investment and commitment of resources and expertise," reflects Dr. Howard. "We met as a family and discussed the vision and their desire to build this business into the future."
In May of 2012, Bill Howard, another of Dr. Rob Howard's sons, joined the business as Director of Operations. He had attended the University of North Dakota, worked on various research projects involving computational chemistry and laboratory automation and obtained a Bachelor Degree in Chemical Engineering. Bill became a manufacturing engineer for 3M where he focused on Lean Six Sigma operations for a variety of laboratory and manufacturing operations.
Scaling Up
The vision included expanding the business to meet the needs of the growing opioid epidemic with accurate data, fast turn-around times and access to toxicology expertise. "There had been nice advancements in technology," explains Dr. Rob Howard. "We began an aggressive investment in MedScan including the best analytical equipment we could find and people with technical expertise."
Bill Howard focused on expanding and streamlining operations including data-entry and customer service. With hiring a challenge during the Bakken Boom in Williston, they opened an office in Atlanta, Georgia in late 2012.
In 2013, Bill recognized that they needed a customized software system to scale the operations to meet growing demand. By 2014 they implemented the Laboratory Information Management (LIM) System that interacts with their testing equipment to obtain test results data, provides client access to customized reports, handles billing and insurance, manages compliance and supports sales and customer service.
The LIM System enabled the business to grow from around 4,200 samples in 2014 to 29,800 samples in 2015 and an incredible 131,000 samples in 2016. "Last year was insane and we had to turn away work," states Bill "This year we had changes with one of our clients and we will be closer to 80,000 tests and can take on additional work."
Expanding Further
Expansion of the business continues as the last of the kids, Dr. Jesse Howard, joined the business at the end of 2016. He earned a B.S. degree in Chemistry from the University of North Dakota and a Ph.D. in Chemistry from the University of Houston. He also did a post-doc at the Center of Bio-Medical and Environment Genomics where he utilized Next Generation Sequencing and state-of-the-art computation methods to study DNA markers for cancer cells and identify foreign DNA in environmental samples. 
After coming aboard the business, Dr. Jesse Howard focused on marketing, an area that needed help, as well as spearheading the creation of AltruDx, a wholly owned subsidiary providing pharmacogenetic (PGx) testing in a new lab under development in Houston, Texas.
PGx testing is used to determine how an individual will respond to a particular medicine and supports pharmacogenetics or pharmacogenomics, the study of how genetics impact pharmacology. Medical practitioners use this information to make decisions about what medications to use to treat a particular malady in a particular patient. The AltruDx lab in Houston has been under development for about nine months and is expected to be in production in 2018.
ProMed Plaza
MedScan experienced much of this growth while being housed in a relatively small space in a brick building behind Hedahl's Parts Plus on Second Avenue West in Williston and were busting at the seams. The group saw a plot of land near the 20/20 Building in Williston and soon made an offer to acquire it.
To make a long construction story short, they found the architect of the 20/20 Building, Mark Schneider, and made plans to build an office and medical complex. The result is the 18,250 square foot ProMed Plaza, a two-story building that houses MedScan Laboratory, Inc., and Advanced Drug Testing.
Additional tenants include Basin Laboratories and Live In Motion. Basin Laboratories is a water and environmental testing lab and Live In Motion is a physical therapy practice owned by Dr. Heather Howard, Bill Howard's wife. There is an additional 3,000 square feet on the main floor that is available for lease.
While the Howard family has been quietly building a high growth business, their impact has become more visible with the ProMed Plaza and will soon need more medical technicians to fill it as they continue to expand their services.