Blog
Peltons – Brewing Up Great Hospitality
posted on 4 September 2017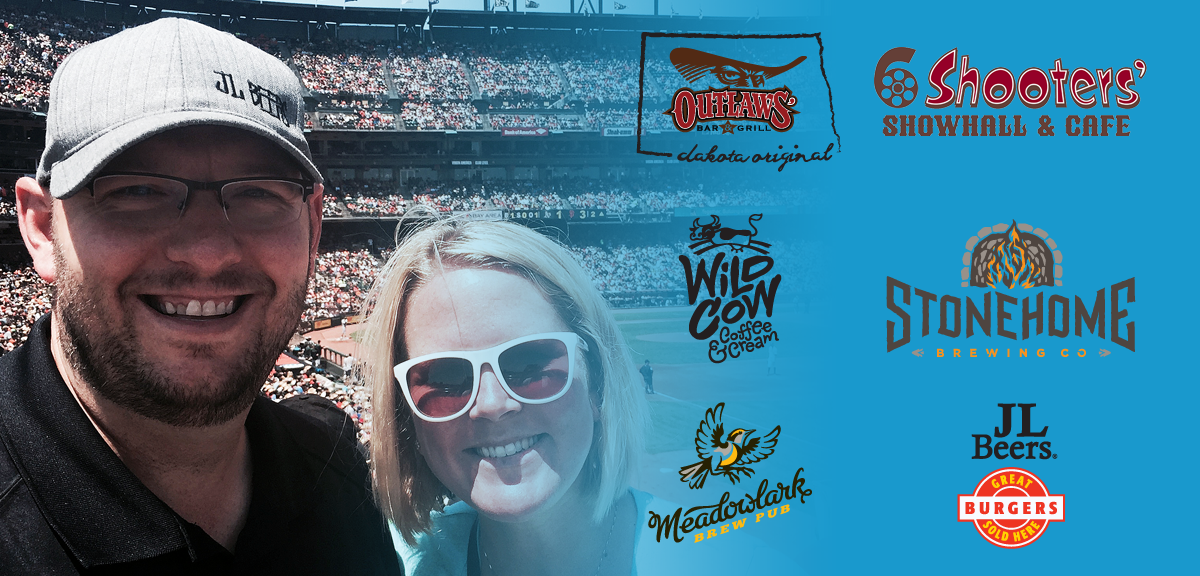 Aaron and Angie Pelton oversee the operations of five restaurants, a craft brewery and more than 250 employees in Watford City and Williston, North Dakota and Sidney, Montana. It's a picture they could not have envisioned less than ten years ago when they were lured back to Aaron's hometown to manage a fledgling restaurant. 
Outlaws Bar and Grill was created in 2006 by the Stenehjem family, owners of First International Bank & Trust, when they built a new bank and corporate headquarters on Main Street in Watford City. In the first couple of years, the restaurant struggled to find its footing and the owners reached out to Aaron Pelton to consider coming home to run the business. 
Falling for Warmer Weather
Aaron Pelton grew up and graduated high school in Watford City in 1996, attended Williston State College and went on to study civil engineering at North Dakota State University. "The winter of '98 was a bad winter," recalls Aaron. "In January, mid-semester, I had a chance for an internship in structural engineering in Phoenix. I loved the weather and I wanted to stay."

He decided to enter Northern Arizona University and pursue a degree in Hotel and Restaurant Management. In 2001, Aaron had an opportunity to work at Pasta Pomodoro, a startup based in San Fancisco by renowned Italian chef Adriano Paganini. "My mom is full-blooded Italian and I enjoyed the very authentic Italian experience," says Aaron.

Hospitality Path
Angie Pelton was born and raised in Davenport, Iowa At age 16 she started her first job at a family-owned ice cream chain where she worked in a supervisory position throughout high school. She went on to the University of Northern Iowa without a program and not sure what she wanted to do.

"After my first year, I got a call from my yearbook teacher who was managing a country club and they hired me as manager of the pool house," recalls Angie. "I lived at the pool and golfed a lot."

The next summer she was recruited to work at the exclusive Lakeshore Country Club in Chicago with members such as Michael Jordan. "As my second summer there ended, I realized I really liked working at the country club. A manager from a Houston country club was recruiting people from Lakeshore for when the summer season ended. I left school and went to Houston where I gained a lot of experience with banquets," explains Angie.

Connecting in AZ
While vacationing in Phoenix, Angie met Aaron and they began dating. It wasn't long before Angie moved to Arizona where she worked at Champps and attended Northern Arizona University to pursue a degree in Hotel and Restaurant Management.

Soon Angie moved to Pasta Pomodoro where she transitioned from shift manager to restaurant manager to general manager at different locations. The pair was now working for the same company but at different locations.

"We learned a lot from Pomodoros and Paganini," states Aaron. "It was a well-respected company with talented people and good managers. We loved it."

"They had a good corporate structure and disciplined approach," adds Angie. "We had to run an efficient operation and manage good budgets and P&L's."

North Dakota Calling
In 2007, Aaron Pelton got a call from Eric Kehr. He had consulted with the Stenehjem family in developing the Outlaws restaurant concept and knew they needed a strong general manager to run the business in the Watford City market. "I took a pass," says Aaron. "We had been married just a couple of years and had a newborn."

In March 2008, Steve Stenehjem called. "We talked P&L, strategy and other business," recalls Aaron. "Then he laid it out, 'We want you in North Dakota'. The timing felt right and I welcomed the challenge of designing our own menu and managing the P&L without the corporate crutch."

 "I was attracted to the big banquet facility," adds Angie. "We inherited a restaurant that was closed on Sundays and between 2pm and 5pm other days. But we were given an opportunity to cast the vision and essentially run our own restaurant."

Going for a Ride
"We defined a vision for nice food but accessible. We wanted to be friendly and not exclude anyone," says Aaron. "We worked morning, noon and night as we made changes to the menu, changed how we recruited people and focused on the details. Things began to pick up and by the fall of 2008 around the hunting season, we had turned a corner."

While the Peltons worked on the business, it didn't take them long to understand Stenehjem's approach to business development. "It was just our second day and I was driving back from the Chamber coffee meeting with Steve," relates Angie. "'I have a lot in Williston to build a bank, I think we should build a restaurant there as well.'" It wouldn't happen until March of 2013, but it foreshadowed things to come.

It was the beginning of a whirlwind for the couple. Activity in the Bakken brought significant growth to Outlaws in Watford City. The restaurant was busy, the banquet room was hosting up to five meetings a day for area companies, and events and catering became a big part of the business as well.

In April 2011 the couple bought into the restaurant holding company, Six Shooters Hospitality. "Ownership had been offered as an option from the outset or just management," explains Aaron. "We liked the forward thinking approach and wanted to be part of future opportunities."

Adding to the Portfolio
The group started working on the Williston Outlaws location in 2012 and opened the restaurant in 2014. "As we're getting the Williston store launched, Steve drops the idea of a bank location in the Fox Hills subdivision in Watford City," says Angie. "So we start to spitball ideas for a restaurant to go with it."

The team started with concepts for a sports bar. During the process in December, they received an email explaining that JL Beers is looking for franchisees in western North Dakota. Over the next few months, things moved quickly and in many directions.

"On January 17, 2015 we were at a sports bar in Chicago doing market research when we got a call from Steve," recalls Aaron. "'I've got the architect in my office and we think it should be a brewery. Let's put together some sketches'. We ended up deciding to build a brewpub, and bought a lot on Main Street to put the JL Beers."

Making it Our Own
The couple worked tirelessly and concurrently on designing and developing the brew pub while also working on the JL Beers project. "Stonehome Brewing Company was our first opportunity to design everything from the facility layout and how food comes off the line to equipment locations, table sizes, décor, menu and the whole experience," says Aaron.

While at the craft brewery conference, they ran into Travis Peterson from Meadowlark Brewing in Sidney, MT whom they later hired to consult on their brewery project. As the brewery equipment arrived for installation in January 2016, across town the JL Beers franchise was opening on Main Street.

As construction progressed on the bank and the brewpub, Peterson wanted help with the Meadowlark restaurant. His passion was the brewery and they arranged for Six Shooters Hospitality to acquire the Meadowlark Public House restaurant while Peterson owns the brewery independently of the restaurant.

With construction of the bank completed, the group opened Wild Cow Coffee and Creamery in May of 2016. On July 20, 2016 they opened the Stonehome Brewery pub restaurant. It wasn't until October that they were able to hire Kenny Drigger, their master brewer, and then on April 26, 2017 they were able to produce and sell their own craft beers.

Time to Focus
"2017 is our first opportunity to focus on all of the existing businesses without working on 'the next thing'," states Angie. "We had 300 employees at our peak and are around 250 currently. We're focusing on recruiting, training and fine tuning our structures."

"Stonehome, which is the English translation for Stenehjem, has been the most gratifying experience of anything we've done," shares Aaron. "It's our creation, our food."

Given the groups history, it may not be the last of their creations.
www.meadowlarkbrewing.com/public-house