Blog
SBDC - A Catalyst for Business Development
posted Jeff Zarling on 13 August 2017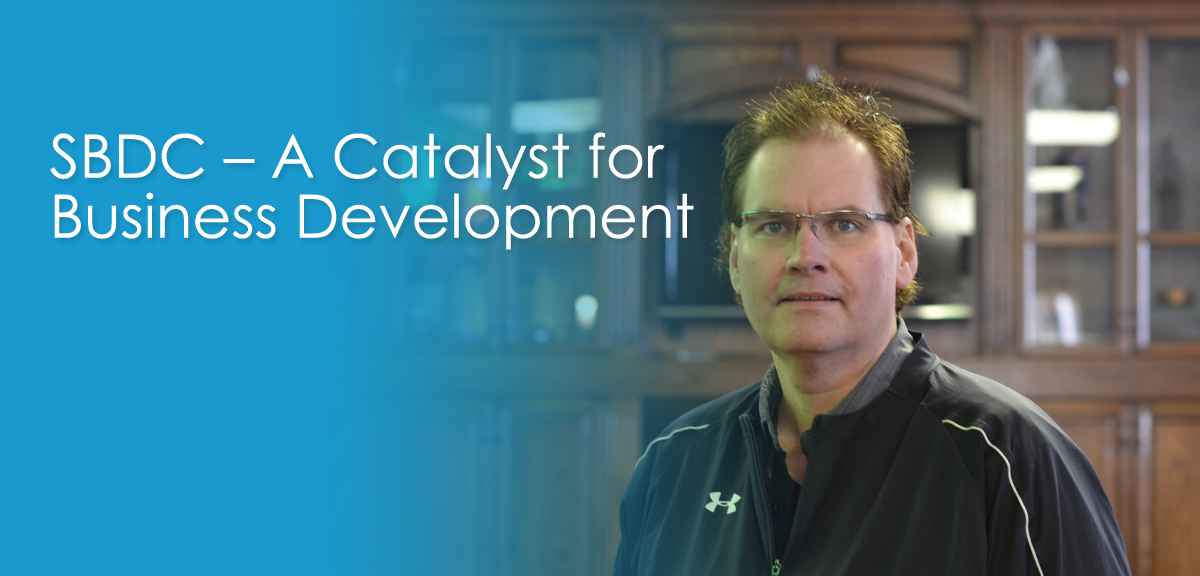 Creating and growing a business is a complex endeavor comprised of many challenges and opportunities that requires a great deal of effort and persistence. Business developers must address topics from organizational structure, financing and product and service development, to staffing, accounting and much more.

For many new and expanding businesses, the journey is made easier with the help of knowledgeable resources such as their banker, attorney and accounting firm. Another such resource that has had a tremendous impact on business development in the region is the Small Business Development Center (SBDC) currently run by Keith Olson.

SBDC – SBA Supported Consulting
SBDCs are local offices hosted by universities and state economic development agencies to provide consulting services to small businesses and are funded in part through a partnership with the U.S. Small Business Administration or SBA.

According to their website, SBDC advisors provide small business owners a variety of free business consulting and low-cost training services including: business plan development, manufacturing assistance, financial packaging and lending assistance, exporting and importing support, disaster recovery assistance, procurement and contracting aid, market research help, 8(a) program support, and healthcare guidance, according to their website.

Launching SBDC at WSC
The Williston SBDC office was established at Williston State College in 2001 by Gary Sukut. "I was just getting ready to retire when Garvin Stevens, then president at Williston State, approached me about starting an SBDC office at the college," recalls Sukut.

He was in the process of selling Sukut's, his office supply and equipment store along with the Radio Shack franchise that he operated. Prior to taking over the family business, Sukut had taught math for ten years at the college, known back then as the University of North Dakota – Williston.

"I had a well-established network in the area," relates Sukut. "I knew all the bankers. I knew all the economic developers, and I had a good relationship with the area Chambers of Commerce." His extensive network coupled with a background with math and computers positioned Sukut well for advising and connecting potential small business clients.

"After a number of discussions with Garvin and Wally, the state SBDC director at the time, I decided to take on the project and committed to three years to get the program up and running," said Sukut.

A Catalyst for Business Development
"It didn't take long for me to have a full client load," chuckles Sukut. "And it didn't take long for this office to lead the state in volume for both the number of clients and loan dollar value." Leads came rolling in from local lenders and others in the business community that soon learned of the services provided by the local SBDC office.

While SBDC offers a wide variety of services, Sukut focused on the key needs within the Williston community including business plan development, cash flow projections and financing packages. This process first enables people with ideas or startup businesses to determine if their project is viable or not. It also helps viable startups and expanding businesses better position themselves for funding with banks and ultimately continued business success.

Passing the Torch
Sukut assisted more than 300 people in three years but his commitment to the program was coming to end and he was looking forward to retirement. "When I retired, they reviewed a number of applicants and selected Keith Olson," reflects Sukut. "He's done a very good job keeping it growing. He has such knowledge of the numbers, funding programs and the bankers."

When Olson applied for the position, he had most recently served as president of a pasta processing plant. Prior to that, he was the Community Development Director for the Divide County Job Development Authority, the area economic development entity in Crosby, North Dakota.
With the JDA, he had developed similar resources as Sukut such as relationships with area banks and lenders as well as other economic development directors including Tom Rolfstad in Williston and Gene Veeder in Watford City and McKenzie County.

"The role fits what I like to do," explains Olson. "I like working with the numbers and financials as well as the local lenders. I also had built good working relationships with the other EDC directors."

Growing Volume and Changing Client Base
As Olson settled into the position, economic activity in the area picked up with growth in the Bakken shale play. The office measures their impact by the number of clients they consult with as well as the dollar value of the project funding their clients secure. Since 2003, the Williston SBDC office has assisted with funding project valued over $750 million.

In the 2007-2008 fiscal year which begins in October, the office assisted clients with about $10 million in projects. In the 2008 – 2009 fiscal year the volume was $40 million. Volume topped out during the 2011 to 2013 fiscal years with both sessions representing about $60 million each year.

"Our goal is to assist about 100 clients each year," said Olson. "At the peak we had 300 clients in one year and overall we consistently average 140 to 160 each year. This fiscal year-to-date that started in October of 2016, we are at 150 clients served."

The client mix and makeup evolves and changes throughout the years. "Traditionally, we see a 50/50 mix of new or startup businesses to expanding businesses," explains Olson. "This last year we had the highest concentration of startups ever with the mix more like 70% startup and 30% existing businesses. We have also seen more ethnic diversity in our clients over the past few years."

Expanding Services
Preparing cash flow analysis, assisting with business plans and feasibility analysis as well as guiding clients through the lending process with bankers continue to be among the core services offered by Olson but a number of new services have had an impact.

"In the last several years we have had access to new tools and resources providing market research data," states Olson. "We can measure, compare and benchmark detailed P&L components to actual comparable businesses in local markets and vertical peers such as Cost of Goods Sold, advertising dollars, etc. The budget and feasibility analyses are more data driven and less about gut feeling."

"My favorite thing about what I do is the diversity of clients," relates Olson. "This week I had six clients that were all very different. The things you learn with these people and this process you wouldn't learn any other way. And I think the key is the City of Williston and their desire to support local business startups and expansion." They are now collocated with Williston Economic Development in the Development Center building.

Olson sees business development continuing at a steady pace despite the slowdown in the oil and gas industry. In some ways it has driven more activity with a significant volume of people with heavy oil and gas experience in the last two years going out on their own. Business development in Williston appears poised for continued growth and the SBDC will be there to support it.

Williston SBDC
113 4th Street East
Williston, ND 58801
701.713.3839