Blog
Simon Says – "Start with Why"
posted Jeff Zarling on 27 February 2017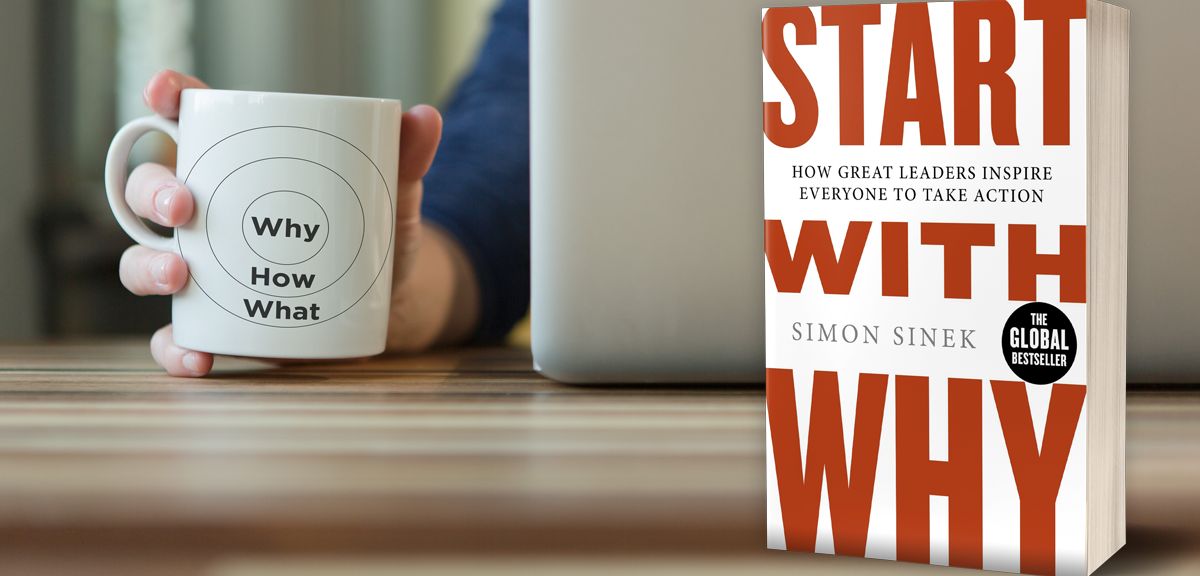 How Great Leaders Inspire Action
is the third most popular TED talk of all time. The talk was presented by Simon Sinek in 2009 and based upon his book
Start with Why: How Great Leaders Inspire Everyone to Take Action
published in that same year.
For those not familiar, TED was conceived in 1984 out of Richard Saul Wurman's observation of the powerful convergence of technology, entertainment and design. TED has evolved over the past three decades beyond the annual conference to include other events including TEDx, independent TED-like events organized under license from TED. Presentations at TED events are referred to as TED talks of which Sinek's is one of the most popular. A link is provided for your reference.
http://www.ted.com/talks/simon_sinek_how_great_leaders_inspire_action
What or Why
In his book,
Start with Why
, Sinek begins by suggesting that there are two fundamental approaches to selling and marketing your products and services that start with either "what" or "why". Furthermore, he asserts that there are two ways to influence behavior: manipulation or inspiration and that starting or focusing on What leads to manipulation whereas starting with Why leads to inspiration.
As I proceeded through the book, I very much related to his description of starting with What. After more than sixteen years in business, I have described our company to hundreds of people; a description that has changed and evolved over time. As I reflect, I have to admit that it has become a bit of a challenge.
Describe Your Business
In the early days, it was easy – DAWA Development (our name until December 2007) was a web development firm. We designed and developed website solutions in the home builder market in the Twin Cities where the company was started and even through the move to Williston working remotely.
As the company grew, we added clients in various industries throughout western North Dakota and our services expanded as we added programming, graphic design, and project management people. The description of our business changed. DAWA Development was a team of passionate professionals providing marketing, communication, web development, and event management solutions.
A Muddled Mess
Throughout the go-go days of the Bakken Boom, we broadened our services and the projects we performed. We created events such as the Bakken Oil Product & Service Show, the Bakken Housing Summit, the Bakken Investor Conference, and the Williston Housing Fair to help connect people to get business done and solve the challenges facing our region. We published a real estate and construction newspaper to better inform the market.
With all that we had accomplished and the various projects we had worked on, our description of the business became a rambling description of our work history and different project types, depending on whom you asked in our organization.
The description became long and muddled. I found myself taking three to five minutes answering the question, "What do you do?" at networking events.
The Problem with What
Sinek lays out his framework by introducing the golden circle with Why in the middle, then How, and What as the outer rings. He goes into great detail describing the sales and marketing strategies borne out of starting with What.
It's about the products and services, features, benefits, and price. The approach uses manipulation including sales, promotions, fear, aspirations, novelty and peer pressure to motivate a purchase. He argues that this manipulation has a cost and is not sustainable.
Most companies communicate from the outside of the circle inward starting with what they do, describing their products and services. Some companies know how they do what they do and describe their differentiation or unique selling proposition. He argues that very few companies know why they do what they do, why do they get out of bed in the morning, what is their purpose, and why should anyone care?
The Case for Why
Sinek states that inspiring companies start with Why. There's no manipulation, they just reverse the order of information. In fact, they're not actually reversing the information because they naturally start with why.
He compares and contrasts a number of well-known companies to make his points. One such example is Dell's focus on products and services including computers and networking hardware. Their focus on What hobbled their ability to break into MP3 players and other consumer electronics. They didn't connect with the market; it didn't make sense for this computer maker to provide these other products and they tend to have to compete on price.
In contrast, Apple has been able to successfully navigate numerous markets outside of their original computer market including digital music players, music stores, mobile phones, and more. He argues that Apple starts with Why.
"In everything that we do, we believe in challenging the status quo and thinking differently. The way we do this is to design products that are beautifully designed and easy to use. We just so happen to make great computers. Wanna buy one?"
He asserts that Apple customers connect with their Why; they believe what they believe. It creates loyalty to the company and its products.
Discovering Our Why
Defining your Why is not a process of creation as much as it is a process of discovery. For us, strategic planning and working on our business is a regular practice done periodically. This last year we incorporated the Start with Why perspective into our process.
We reviewed our team, our clients and what we do through the lens of Why. The exploration was very familiar as we have a strong sense of who we are and what we do. We are passionate about the work we do individually. We are passionate about the impact we have on our client's lives and their businesses.
We explored the many stories of the ways in which we have connected people to do business, acted as a catalyst for housing construction, helped business owners get their lives back by implementing scalable systems, and affected growth in their businesses through marketing and communication solutions.
As we reviewed each of these areas, we continually asked why we are excited about this and why this is important?
Describing Our Business Now
After processing all of this, our Why became quite clear. We are passionate about helping people do business better. That's it. That one sentence encapsulates why we get so excited about what we do for our clients.
DAWA Solutions Group is a business consulting firm that helps people do business better. We offer business consulting, system solutions, marketing and design services, and websites.
Discover Your Why
Sinek states that your Why is the purpose, cause, or belief that inspires you to do What you do. The Why of an organization often comes from the founder and their beliefs. It is a cause that drives them constantly. Your Why provides you with clarity, meaning and direction. It is a filter through which you can make decisions, every day, to bring your cause to life.
To explore and discover your Why, you can check out the book or visit Sinek's website at
www.StartWithWhy.com
for more information and tools including the Why Discovery Course.