Blog
Stylish Events – Filling a Need, Pursuing a Passion
posted Jeff Zarling on 16 January 2017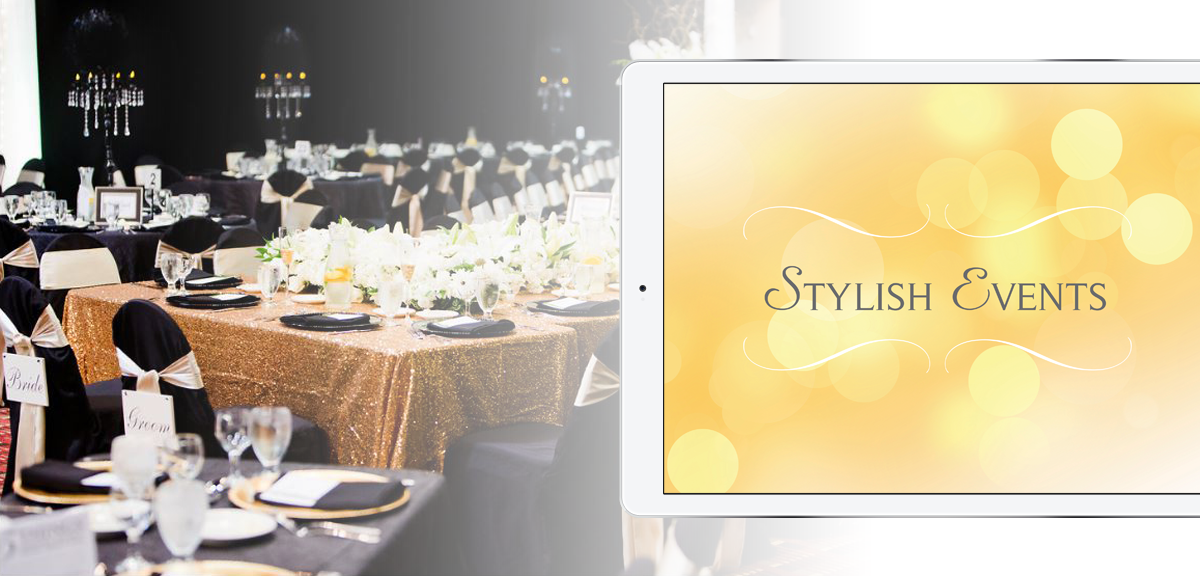 Standing in her wedding dress at 1:00 a.m. tearing down the décor that hung witness to her memorable day, a stark thought filled her mind – "Someone else needs to be doing this for the bride."
It was 2008 and it wasn't the first time Angela Thomas, now Angela Dunbar, thought about the need for an event and wedding planning business in Williston but the experience galvanized her desire to pursue it further.
She had previously worked part-time for a short period at a local bridal shop where she discovered her passion for event planning and the seeds of her business idea were planted. The concept percolated for several years before and after her own wedding experience and involved reading lots of magazine articles, online research and daydreaming.
The First Project
"I always knew I would have a business," relates Dunbar. "I have the drive for it." That moment finally arrived in 2011 while working as an office administrator at a local land-leasing company.
A coworker was getting married and unable to find someone to help with the decorations and other details. After a number of promptings, "OK, I'll do it," said Dunbar. In her debut event, she organized and executed the decorations for a 400 person wedding.
Starting and Expanding Services
Within two weeks of her first event, she received a call requesting her services from someone who had heard about the first wedding. Stylish Events was officially up and running and word-of-mouth has been a driving force behind the growth of her business ever since.
The following year, services expanded beyond decorating into planning and coordinating. 2012 also saw an expansion into the arena of corporate events including the Williston API Petroleum Banquet. Since then, the company has provided services for Williston Economic Development's WEST Event, the Williston Chamber's Level UP business conference, as well as corporate holiday parties, investor meetings, and other events.
The business also invested in rental equipment inventory to meet client needs including tables, linens, and a plethora of decorating items such as centerpieces.
Growing the Business
The business grew rapidly. "I had no plan, no strategy and felt like I had no clue," related Dunbar. "I've just got to go and somehow I'll handle it."
The first full year, Stylish Events served 15 events while Dunbar continued to work a fulltime job and raise a toddler. The next year, 2013, the company served nearly 25 events while continuing to work and welcoming home her second child.
In 2014, Dunbar transitioned out of her previous employment and into the business fulltime. That year the business peaked along with the market serving 45 events. Since then, they have settled into a pace of around 40 events each year.
Working on the Business
As the business grew, Dunbar recognized the need to work on key parts of the business. Her key strategies were to build expertise in operating the business and building inventory and relationships in delivering services.
She spent a great deal of time focused on processes, time management and detailed checklists. It allowed her to bring a structured approach to all aspects of their services from planning meetings, décor selection, set up, tear down, and the minutia that makes an event seamless and successful.
Building inventory, establishing trusted rental supply sources and understanding the ever-changing tastes in décor have been other key areas of the business.
Establishing trusted relationships and good communication allows Stylish Events to ensure that it all comes together. From venue, catering services, rental equipment, and other service providers, Dunbar and her team can facilitate all of the details and coordination through years of relationships built on execution and trust.
Bridal Show
The Williston Bridal Expo, in its sixth year, is an event that Stylish Events has become deeply involved in having taken on the role of producing it about four years ago. It's a role that fits well into the company's expertise.
The expo features more than twenty vendors for brides-to-be and others to explore along with many opportunities to win door prizes. The event runs Saturday, January 14, 2017 from noon to 3:00 p.m. at the Grand Williston Hotel. More information is available on their Facebook page at
www.facebook.com/willistonbridalexpo
Challenges and Future Vision
"It's a lot of work but it is extremely rewarding," relates Dunbar. "I am very passionate about it."
Asked about her greatest challenges, she cites managing two or three events in the same weekend. Additionally, it's difficult to manage staffing for a company with sporadic and non-traditional hours.
She describes a future focused on making the business better - working with a planning business consultant and pursuing event planning certification. She dreams of someday owning her own venue or setting up a store front with a show room. Wherever she ends up it will likely start with "I'll do it," and putting another foot in front of the other.
http://stylisheventsnd.com/