Careers with DAWA Solutions Group
Have you ever experienced a job where you got to do what you love? When you're a programmer and you get to come to work and build a web application that helps a client cut their data entry time in half, it's the kind of experience that makes it rewarding to come to work. Our designers get to see the client's face light up when he talks about the sales materials and advertising that has helped his business skyrocket. That's what drives us each day.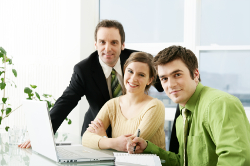 We thrive by helping our customers achieve their goals. Our commitment to our customer's success drives growth at DAWA for the company and our people. We get our kicks out of seeing them benefit from our services.
Our fast-paced, dynamic environment provides you the chance to showcase what you can do and build lasting relationships with our team and our clients. When we build someone's business, we build friendships. We all get to grow together.
Check out our openings listed to the right.